Ice Age 3: Dawn of the Dinosaurs [RePack] [ENG]
Type:
Games > PC
Files:
1
Size:1.61 GiB (1726908416 Bytes)
Quality:
+1 / -0 (+1)
Uploaded:2009-07-04 00:42:22 GMTBy:
evgen-florov
Seeders:6Leechers:2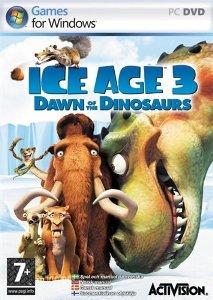 Dowload:
Download this torrent
(
magnet link
)
Year: 2009
Genre: Arcade Kids
Developer: Eurocom
Publisher: Activision
Platform: PC
System requirements:
Operating system: Windows XP Sp2 / Vista
CPU: Pentium IV 2 GHz
RAM: 1 GB
Place on a hard drive: 3 GB
Sound device: compatible with DirectX
Video Card: Video Card compatible with DirectX ® 9.0c, 256 MB RAM
Management: The keyboard, mouse
Type of publication: piratka (repak)
Language: English only
Tabletka: Integrated (vitality)
Description:
Life of the main characters suffered some changes. Mammoths Manfred and Elly expect to light a young, saber-toothed tiger Diego fell into thought that if he does not become too «spineless» in the company of their friends; sloth Sid, absurd desire to create their own tribe, decided to steal some dinosaur eggs. Leaving to save Cid, friends get into the mysterious world of plants, hidden under layers of ice, where they encounter dinosaurs, and an aggressive environment, as well as get acquainted with the hunter on the dinosaurs - weasel named Buck. Join the unthinkable herd of prehistoric animals in their absolutely wild, insane and exciting adventure game «Ice Age ™: Dawn of the Dinosaurs»! For the first time, playing for six favorite characters from the cartoon «Ice Age», go on a rescue mission through the melting snow in the mysterious world of dinosaurs, through the unseen spooky jungle carnivorous plants, thick foliage and the vicious dinosaurs. Based on the long-awaited movie studio Fox «Ice Age 3: The era of dinosaurs», this game - truly a great adventure with a mammoth!
Extras. Information:
- Repak did I - VelArt
- Cut all languages other than English.
- Video uzhato 60%
- Installation takes 5-10 minutes, depending on the level of operational pamyati.
Download this torrent
(
magnet link
)